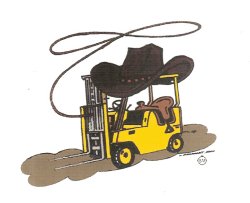 Twelve years ago in beautiful downtown Springfield, Ohio the newly organized Springfield/Clark County Safety Council (SCCSC) was looking for a showcase event that would serve the membership. On noting that School Bus Rodeos had for a long time been successful in promoting school bus safety in a fun and competitive manner and that a large number of the SCCSC membership operates powered industrial trucks (forklifts, tow motors, hi-los etc.) we elected to conduct our first forklift rodeo.
Ten teams of four people each from different local companies participated in an outdoor environment on a Saturday. A great success, the event has grown, been taken indoors to beat old man weather. The Springfield/Clark County event has grown dramatically and gained state and national recognition.
In 2001, The Higgins Group developed a turnkey forklift rodeo competition for a major (big three) auto manufacturer that included all of the requirements for a regional competition. They provided the site, the forklifts, the prizes and all of the associated logistics to include food for the participants. The sole purpose of the event is to promote the safe and efficient operation of their industrial trucks all in a fun, competitive environment!
Using their years of experience, The Higgins Group can develop a safety rodeo for you at your site or assist you with starting your own event. Visit http://www.higginsgroupinc.com/forkliftrodeo.htm to see information about timing, rules and more.
Date(s)
:
7th and 8th November 2008
Venue
:
Clark County Fairgrounds
http://www.higginsgroupinc.com/hgiforkliftrodeo.htm