The organizers advise that 2003 saw the largest number of visitors attend. Official CAB report figures show 6054 visitors attended the Trade Show, along with 996 Conference Delegates. This represents an increase of 15% more visitors than the previous year.
It's a safe bet. By exhibiting you will:
- Promote your latest materials handling related products and services to a targeted audience
- Speak with key decision makers
- Demonstrate your products or services to a quality audience
- Consolidate your existing business relationships
- Increase your potential client base
In our post show survey to exhibitors, 92% told us that their target market attended the 2003 show.
The Safety Institute of Australia (VIC Division) will hold their conference alongside Safety In Action 2004.
Exhibitor Products
Safety In Action:
Absorbent materials, asbestos auditing, auditing and consulting, breathing apparatus, bulk liquid tankers, communications, confined space, dangerous/hazardous goods storage, drug testing, duress, ear/eye/face/head protection, education, electrical safety, elevated work platforms, ergonomic furniture/equipment, emergency management, environmental management, fall protection, fire control, first aid, gas and fume detection/extraction, hazardous spill containment, health assessments, hearing protection, information and training resources, injury prevention and management, insurance provision, labels, laboratory services, lockout/tag out, machine guarding, management systems, medical/health, noise measurement/management, OHS software, platform ladders, professional associations, protective clothing, safety fencing, safety flooring, safety footwear, safety gloves, safety inter-locking products, safety knives, safety nets, safety showers/eyewash, signage, security, skin protection, torches, trauma management, vehicle safety, waste management, welding products.
Materials & Manual Handling:
Conveyor equipment, electric hoists, forklifts and forklift safety, hand trucks, lifting equipment, lift tables, loading dock equipment, overhead cranes, pallets, pallet trucks, pallet inverters, scissor lift tables, stair climbing forklifts, stock pickers, storage and racking systems, stretch wrappers, vacuum lifting, wheels & castors.
Date(s)
:
30th March to 1st April 2004
Time(s)
:
TBA (GMT +10:00) Canberra, Melbourne, Sydney
Venue
:
Melbourne Exhibition Centre
Contact for booking / more info
:
Phillip Nennstiel 03 9654 7773 or email at phillip@aec.net.au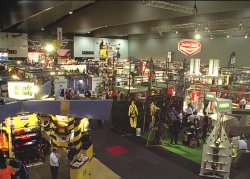 http://www.aec.net.au