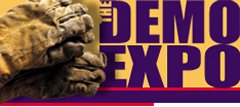 ICUEE will feature a first-ever Investors Conference at ICUEE 2005, to spotlight the utility construction equipment marketplace to a select group of financial analysts. The AEM Investors Conference will be held the morning of September 28 and include individual company presentations and a pre-show exhibits tour. Conference co-sponsor is Morgan Stanley.
The International Construction and Utility Equipment Exposition (ICUEE) has been named the second largest trade show of any industry in the United States, according to the recently released "Top 200" compilation of Tradeshow Week magazine, a leading exposition publication that tracks a variety of statistics on industry shows in the U.S. and Canada.
The rankings are for total exhibit space used and cover calendar year 2003. ICUEE 2003 featured more than 1.1 million net square feet of exhibit space, 790-plus exhibitors, and more than 13,500 attendees.
The next ICUEE will be held in 2005
The show is targeted to Utility Construction Markets. ICUEE is the leading trade show for the utility construction industry and features extensive equipment demonstrations in job-like conditions. It is perennially among the leaders in the Tradeshow Week "Top 200" list, and the previous edition of the biennial ICUEE also earned the number-two spot.
The exposition, which is owned and produced by the Association of Equipment Manufacturers (AEM), also ranked as the second largest industry show managed by a trade group, according to Tradeshow Week's "Top 200" list.
"ICUEE 2005 will continue to build upon the success of past shows by providing more opportunities for exhibitors to discuss the latest product innovations and applications with their customers."
ICUEE, the International Construction and Utility Equipment Exposition. Held each two years.
Date(s)
:
September 23-25, 2003.
Venue
:
Kentucky Fair & Exposition Center
Contact for booking / more info
:
contact toll free at 866-236-0442, fax 414-272-1170, e-mail info@icuee.com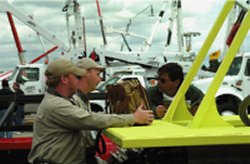 http://www.icuee.com