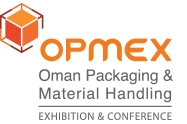 The first edition of Oman Packaging and Material Handling Exhibition (OPMEX) will be launched from 8 ? 10 February 2016 at Oman International Exhibition Centre. It will be the most complete Processing & Packaging show for machinery, equipment, materials and services in the industry.
The show will bring the world?s best processing and packaging suppliers to Oman. It will also have companies involved in Material Handling, Logistics, Storage, Racking and Intralogistics.
OPMEX will be an ideal platform for companies to exhibit their products and services in front of thousands of visitors. It will have companies from all over the world which makes it an international exhibition. Visitors will get a chance to meet industry big players all under one roof.
WHY OMAN
RETAIL GROWTH
The retail Market is growing on 7% annually and Oman is positioned the eight globally according to Global Retail development Index. Yearly Population growth of 2% reaching 3.6 million by 2017. The increase of population will lead to higher consumer spending. The government has increased the minimum wages by more than 60%. The retail Market is growing on 7% annually and Oman is positioned the eight globally according to Global Retail development Index. There is a shift in consumption patterns from small corner groceries towards super markets and hypermarkets.
GROWING ECONOMY
According to forecasts by the IMF, Oman?s GDP is expected to grow by around 3.4% in both 2014 and 2015 and will reach $ 87.38 BN in 2017. Investments represents 33.04% of total GDP.
Foreign Trade: Imports of goods and services volume will increase by 9.07% and exports by 2.23% in 2017. The GCC packaged food market stood at US$ 25 billion in 2013, with expectations of an 8.5% annual growth until 2018.
INDUSTRIAL INVESTMENTS
Itvis showing strong growth with the government investment in the sector to reach $ 517.88m According to data published by PEIE, the total number of projects hosted within the industrial estate now stands at 1360 with total investment valued at $11.65 BN. The Omani government will invest about USD 250 million to develop fish zone at Harbur in Duqum. The Harbur will accommodate 60 food processing plants.
LOGISTICS & INFRASTRUCTURE
Oman has developed road networks connecting all parts of the sultanate. It has three ports of 10.6 TEU capacity. Duqum, Sohar and Salalah will position Oman as the second in the Middle East in the transshipping especially after the completion of the rail network that will connect Oman to the rest of the GCC countries. Oman will offer competitive shipping cost as Infrastructure in Oman allows manufacturers to leverage competitive shipping cost globally.
LOCATION
Oman is located at the center of largest trading areas in the world: the east-west, nexus joining markets in Europe, Asia and North America with over one billion consumers on Oman?s door steps.
Date(s)
:
February 8th - 10th, 2016
Venue
:
Oman International Exhibition Centre
Contact for booking / more info
:
Contact Us
http://opmex-oman.com/2016