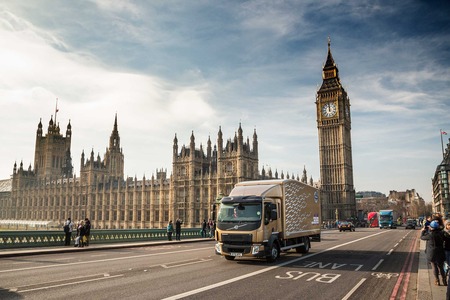 Freight in the City Expo 2015 will take place on Tuesday 27 October at Alexandra Palace.
The one-day free-to-attend exhibition will showcase the latest vehicles, technology and equipment that enable urban deliveries to be made quietly, cleanly and safely.
A series of seminars will run throughout the day highlighting developments in sustainable urban deliveries:
The Clean Seminar Theatre will focus on air quality, emissions, vehicle technology, reducing congestion and alternative fuels.
The Quiet & Efficient Seminar Theatre will focus on retiming deliveries, quiet equipment, urban consolidation; last-mile deliveries and route optimisation.
The Safe Seminar Theatre will focus on cycle safety initiatives, the Safer Lorry Scheme, Clocs, vulnerable road user training for CV drivers and HGV equipment.
Who should attend?
Anyone interested in sustainable urban deliveries, be it from a logistics company point of view, a local authority or a business that delivers its own goods or acts as the consignor and receives goods. If you're involved in the movement of goods and services, at either end of the supply chain or anywhere in between, Freight in the City Expo will be of interest to you.
Government agencies, academics, consultants, logistics professionals, retailers, environmental health officers, planning officers, haulage companies, and local councils should all attend.
Event Promotion by @evvnt - http://bit.ly/septPROMOTE
Date(s)
:
October 27, 2015
Time(s)
:
9:00 am - 5:00 pm (GMT) Greenwich Mean Time; Dublin, Lisbon, London
Venue
:
Alexandra Palace
Ticketing
:
Free
http://atnd.it/35611-0