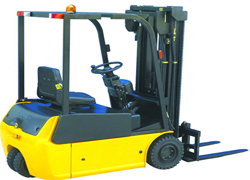 The organisers claim that thjis is Asia's biggest professional forklift show with strong governmental support, and an excellent platform for you to display, sell, purchase high quality products and advanced technology.
Various forklift: Industry vehicle, Electric power tray stacker, Fuel forklift, Electric power forklift, Hand-moving forklift, Special kind forklift; Various accessories of forklift (battery, tire, chain, bearing, fork, lifter, carriage, wheel, fork positioner, diesel, backrest, load transfer, arm, weighing systems, aisle, telescopic, gasoline, hood, loader, jib, cab, indicator, etc ); Various accessory series of forklift; Various forklift trainings; Various forklift affiliated equipments; Materials Handling and Storage Equipment; Logistics Auto-technology and Transmission System; Materials Transportation and Other Special Vehicles; Hoisting Equipment; Logistics Information Technology.
Date(s)
:
July 3-5, 2007
Venue
:
Shanghai Everbright Convention & Exhibition Center
Ticketing
:
RMB 1200 per sq. m.
Contact for booking / more info
:
Ivy Gao, sibriana_ivy@yahoo.com.cn Shanghai branch of Power Industrial Truck Technica

http://www.citaexpo.com