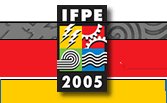 IFPE 2005 - the International Exposition for Power Transmission - is the leading international exposition and technical conference for hydraulic, pneumatic, electrical and mechanical power transmission components, systems and controls.
Co-located with CONEXPO-CON/AGG 2005 (see seperate entry in this calendar), the two events represent one source with infinite opportunities for over 100,000 industry professionals. With over 100,000 net square feet of exhibits and product demonstrations throughout the show floor, IFPE 2005 will be the largest event in North America for the motion control industry. Best of all, visitors to IFPE will save money by being able to attend a single event for the power transmission industry.
The IFPE 2005 Technical Conference will be co-located once again with IFPE 2005 and CONEXPO-CON/AGG 2005 in Las Vegas.
IFPE 2005 also hosts International Fluid power Summit and the technical conference and learning center.
*** How will I TRANSPORT AND STORE my purchased goods? Find the answer in the Forkliftaction.com Business Directory ! ***
Date(s)
:
15th to 19th March 2005
Venue
:
Las Vegas Convention Center
http://www.ifpe.com/