The organizers advise that excellence in bulk handling in the mining industry has the potential to make or break a company's operations.
Increased efficiencies and reduced costs are the holy grails for mining companies - and the freight of product from pit to port to market play an important part in the overall profitability of the mining operation.
Australia's abundant natural resources have, throughout history, been the backbone of the economy. The vast distances involved have brought out the best in Australian innovation and determination - creating a world leading freight industry that
From the pits through to the process plants, to the trains that take the product to port, to the ships that take the product to the client - the intricacies of the supply chain are significant. New transport infrastructure, new technologies, new systems - a new forum to give you the information you need.
This conference addresses the key issues facing mining companies' supply chains.
Date(s)
:
16th to 18th November 2004
Venue
:
Hyatt Regency
Contact for booking / more info
:
James Matthews on Ph: 61 2 9005 0729 or james.matthews@terrapinn.com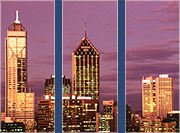 http://www.terrapinn.com/2004/mining_AU/index.asp?&T1=26/7/2