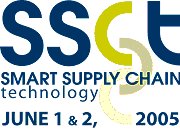 The Smart Supply Chain Technology Show is:
FREE

IS 30% LARGER THAN WHEN LAST HELD

HAS 85 EXHIBITORS FROM 6 COUNTRIES

HAS FREE SEMINARS ON RFID, E-PROCUREMENT, DEMAND FLOW INTELLIGENCE AND MUCH MORE

The June SSCT Show bigger than ever-before…RFID and e-Procurement head list of hot topics
With visitors from 10 countries, 50% more exhibitors, over 1000 pre-registrations, 92% of visitors being decision makers and five free seminars available for attendees, the SSCT show organisers are gearing up for a truly successful event at supply Chain week 2005 in early June.
The Smart Supply Chain Technology Show which will be held alongside Smart 2005 is set to be the largest exhibition of its kind and over 86 exhibitors will be showcasing new products and solutions.
Exhibitors include: 6 Microsoft Business Partners, Quadrem, GRA, Lincoln Indicators, Siemens, Intentia, Oracle, Evolve, QAD, SSA Global, Telstra, Psion and SAP. Attendees will have the opportunity learn about a range of technologies and solutions available for the supply chain, transport and logistics industries.
According to the organiser, Mr Simon Cooper, Director of Hayley Events, the hot topics at this years' event are RFID, e-Procurement, the challenges of real-time on-demand business and global purchasing and supply chain management.
With the significant increase in exhibitors the organisers introduced a new matchmaking facility to help attendees get the most out of their visit.
"Trying to visit over 86 companies in a few hours is near impossible," said Mr Cooper.
"We have introduced for the first time an on-line registration form formatted with specific questions asking visitors to indicate their product areas of interest. We then provide the full exhibitor listing and which products, from the registration form, apply each exhibitor to match visitors to exhibitors. This makes it easier for both the buyer and the exhibitor," he said.
All pre-registered visitors who register on-line will receive a personalised custom report via email before the event giving them more reasons to attend the exhibition. Simply log on to www.smartsupplychain.com.au and register today.
Date(s)
:
1st and 2nd June 2005
Venue
:
Sydney Convention Centre, Darling Harbour
Contact for booking / more info
:
For further information about exhibiting at the Smart Supply Chain Technology Show and to receive a prospectus please contact: Simon Cooper, Interpoint Events on Ph: (02) 9660 2113 fax 02 9660 4419 or Email: info@smartsupplychain.com.au Entry to the exhibition is free of charge. Register online now:
http://www.smartsupplychain.com.au/visitorReg.cfm?vis=1