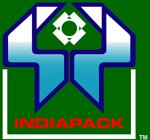 The International Packaging Exhibition and Conference of India
Packaging in India is a growth story and with current market growth at more than twice the global average, India Pack 2004 is India¡¯s first truly international packaging and associated industries event in support of this new era.
"Currently India has small and large shows happening all over the country, many of them badly managed, poorly promoted or lacking in focus" says Mr Rajiv Dhar, Director of the Indian Institute of Packaging (IIP), when explaining the rationale behind the launch of India Pack 2004.
"What India needs is one large international Packaging Show which will service the current high demand for upgrading of facilities and technology in addition to achieving higher productivity – our version of Interpack!
"That is why the IIP has decided to create the biggest packaging show in India with the support and involvement of all the packaging Associations in India"
Date(s)
:
26th to 29th October 2004
Venue
:
Bandra Kurla Compex, Mumbai¡¯s international commercial district.
http://www.indiapack.com