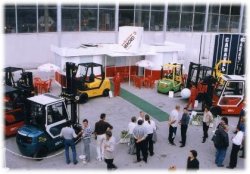 Balkancar Record will have a stand at front of Hall 13
The International Technical Fair is a major event in the field of investment goods and technologies in the South-East Europe. It has been a member of the Union of International Fairs (UFI) since 1936, maintaining and developing the traditions of one of the long-standing members at the Balkans.
Exhibitors:
Producers of investment goods
Agents and distributors of multinational companies
Companies offering complete engineering solutions
R&D institutes and organizations
Companies active in the field of transport, mechanical engineering, chemical industry, power engineering, ecology, construction, IT, metallurgy and other industrial sectors
Firms developing lasting interest in the Balkans
Manufacturers of industrial equipment
Representatives of branch unions and associations
Subcontractors
Representatives of financial institutions, etc.
Date(s)
:
29th September to 4th October 2003
Venue
:
Plovdiv Fair Grounds
Contact for booking / more info
:
Contact Person: Mrs. Valentina Petrova Phone: 032/ 90 26 95 Fax: 032 / 902 432 email: V.Petrova@fair-plovdiv.com