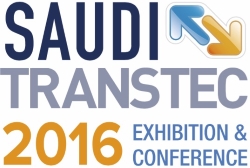 SAUDI TRANSTEC - WHERE TRANSPORTATION & LOGISTICS LEADERS MEET
Since its debut in 2010
SAUDI TRANSTEC
receives official support from the Ministry of Transportation and the logistics and supply chain community throughout the region. The exhibition has been recognised as the top exhibition in the sectors of Transport, Freight Delivery, Warehousing and Logistics.
After a successful trade show in 2015, SAUDI TRANSTEC is already geared up for the 2016 edition. By attracting a very targeted audience for the participating companies, SAUDI TRANSTEC has once again proved that this is a strong trading platform where increasing your distribution network, strengthening business relationship and sharing industry developments.
ACCESS THE LARGEST LOGISTICS & TRANSPORTATION
MARKET IN THE MIDDLE EAST
Building on the increased attendance year after year, the high quality of visitors and thought-leaders that already attend the event, the 2016 edition will once again ensure that it is the definitive Saudi Arabian industry event.
As a platform for knowledge sharing and connectivity between the sector's most influential peers, SAUDI TRANSTEC is your best opportunity to meet, connect and build contacts in the region.
Date(s)
:
December 5th to 7th
Venue
:
Dhahran International Exhibition Center
Contact for booking / more info
:
PLEASE CONTACT SAUDI TRANSTEC
http://www.sauditranstec.com/