With the support of Shanghai Finance Association,the Shanghai Government, and other key authorities, Shanghai Finance and Global Leaders Institute, will jointly convene Retail Banking Asia 2007 on October 17-18, 2007 in Shanghai, China. It aims primarily at central banks, commercial banks, financial service providers, financial equipment vendors, IT & software providers, consulting and law firms worldwide. The event is where participants upgrade knowledge, strengthen established relations and expand business territories, secure market share.
Our confirmed speakers (2007.7.5) come from leading banks, organizations, and experienced industry experts:
Sheng Songcheng, Director, People's Bank of China
Wang Huaqing, Assistant President, China Banking Regulatory Commission (CBRC); Director-General, CBRC Shanghai Office
• Sun Chiping, President, Industrial and Commercial Bank of China
• Ning Liming, President, China Construction Bank
• Chen Xin, President, Bank of Shanghai
• Ji Xiaohui, Chairman, Shanghai Pudong Development Bank
• Cartier Lam, Executive Vice President, Bank of East Asia
• Philippe Aguignier, Vice President China, BNP Paribas & Bank of Nanjing
• Nicholas Hossack, Director, Australian Bankers' Association
• Steve Monaghan, Head of Under-Banked Markets International Division, Overseas-Chinese Banking Corporation
• Trevor Williams, Chief Economist, Managing Director, LIoyds TSB Corporate Markets
• Yeong-Geun Han, Director & Head, Industrial Bank of Korea
• Hirokazu Yanaka, Managing Executive Officer, Deputy Chief Executive, The Bank of Tokyo-Mitsubishi UFJ, Ltd.
• Christine Ip, Country Head for Consumer Banking, China, Standard Chartered Bank
• Lynne Sutherland, Head of Retail Development, ANZ
Key Issues:
•Development and Prospect of Retail Banking Market in China
•Future Development of Global Retail Banking
•Improving Specialist Services of Asia Pacific Retail Banking
•Being the Trail Blaze: Leading the New Way of Retail Banking
•Product Innovation – Key Competitiveness for Retail Banking
•Preparing for RMB Retail Business
•Growing Profitability in a Rising Retail Market
•Creating New Retail Value through Acquisition
•Exploring Overseas Market to Accelerate International Expansion
•New Market Expansion Strategies of Retail Banking in China
•Improving Services with Data Warehouse and Clients Segmentation
•Multi-channel Distribution of Marketing and Services
•Risk Management in Retail Operations
•Explore the Methodologies of CRM
For further information of Retail Banking Asia 2007, please visit: http://www.retailbankingasia.com; for the full agenda, to register for the summit or to inquire the sponsorship & exhibition opportunities, please feel free to contact:
Jason Zhu
Tel: +86 21 5236 0030 ext 869
Fax: +86 21 5236 0029
E-Mail: jason.zhu@globaleaders.com
Website: www.globaleaders.com
Date(s)
:
Oct 17th-18th,2007
Time(s)
:
morning to evening (GMT +08:00) Beijing, Chongqing Hong Kong, Urumqi
Venue
:
Sheraton Shanghai Hotel & Residences Pudong
Ticketing
:
USD1695
Contact for booking / more info
:
jason.zhu@globaleaders.com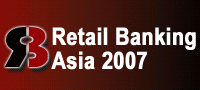 http://www.retailbankingasia.com