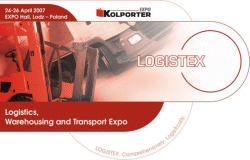 The Kolporter EXPO company invites to the Logistics, Warehousing and Transport Exhibition. The fair will be dedicated to logistic sector and it will provide an excellent platform for service providers and producers to show their products and services to decision makers from logistic sector.
Who will exhibit their products and services?
The LOGISTEX fair boasts a wide range of products and services on display. The visitors will have an opportunity to become acquainted with a comprehensive offer presented by companies operating in the logistics sector.
Products and services will be offered by: logistics companies, transport firms, producers of warehousing equipment and machines, providers of transport, storage, and forwarding services, logistic and distribution centres, IT and telecommunications companies, banks, insurance companies, training companies and other providers of services within the logistics sector.
Please visit RAEDER-VOGEL and their partners DIREKTA at Logistex
Date(s)
:
24th to 26th April 2007
Venue
:
Expo Hall
Contact for booking / more info
:
Mr Ludomir Tuszyński, PhD phone +48413678651, mobile +48 510030880 e-mail: logistex@kolporter.com.pl
http://www.kolporterexpo.pl/english/logistex.html