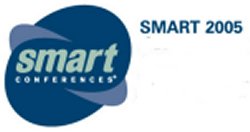 Smart Conference, Australia's leading conference for supply chain and logistics management, held in Sydney every two years, is back in 2005.
THEME: Staying in the Fast Lane - From Planning to Execution
ORGANISED BY: Logistics Association of Australia (LAA), Australasian Production and Inventory Control Society (APICS) Australian Institute of Purchasing and Materials Management (AIPMM) The Chartered Institute of Logistics and Transport in Australia (CILTA) Refrigerated Warehouse and Transport Association of Australia (RWTA)
Smart Conference, organisers of the Smart 2005 supply chain conference, has made a big step towards the show's June 1, 2005 start date with an invitation for interested parties to submit papers.
Potential speakers are being asked to submit applications to present papers around the theme "Staying in the Fast Lane".
Smart 2005 will run from June 1-2, 2005, at the Sydney Convention & Exhibition Centre, Darling Harbour, Sydney.
The conference program is yet to be finalised, but will focus on 10 information streams:
• Strategic procurement;
• Manufacturing logistics;
• Global trade;
• Strategic planning;
• Fast-moving consumer goods;
• Radio frequency identification;
• Transport & distribution;
• Cold chain;
• Customer & supplier relationship management; and
• Technology.
Smart 2005 program director Arch Fraser said there would be more than 60 presentations, with an emphasis on case studies, during the two-day event.
"As more than 1,000 delegates are expected to attend, it is crucial we attract qualified, experienced speakers," he said.
"Feedback from delegates has shown case studies are well received, as they offer the best insight into real problems and solutions."
Papers can be submitted online at www.smartconference.com.au. The deadline for submissions is September 30.
Simon Cooper
Managing Director
Interpoint Events,
email: scooper@intermedia.com.au
tel: 02 9660 2113
Date(s)
:
1st & 2nd June 2005
Venue
:
Sydney Convention and Exhibition Centre
Contact for booking / more info
:
Enquiries: Pamela Adams, Conference Director, Smart 2005 Conference T+ 61 2 9223 9366; F+ 61 2 9223 9388; admin@smartconference.com.au
http://www.smartconference.com.au