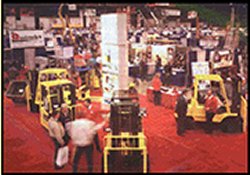 GLIS has been an integral part of the Industrial community in Northern Ohio for the past 31 years.
The average attendance at GLIS, for the past 11 years, is nearly 14,000 qualified attendees in just three days!
Most of the Local Dealers will have a display, and we understand that almost all major Brand Lift Trucks will be represented (this is not confirmed).
Date(s)
:
9th to 11th November 2004
Time(s)
:
Tues 10am - 5pm Wed 1pm - 8pm Thurs 10am - 4pm (GMT -06:00) Central Time (US & Canada)
Venue
:
I-X Center, Next to Cleveland Hopkins Airport
Contact for booking / more info
:
cmorgan@naexpo.com
http://www.naexpo.com/industrial/index.htm