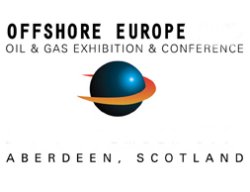 Off Shore Europe 2005 details are not yet published, however at their website http://www.offshore-europe.co.uk you may download a pdf copy of the registration forms for 2005 and this document gives a listing of companies that attended the 2003 show.
the 2003 event was heralded ...
"..London/Aberdeen, UK (15 September 2003) – A total of 26,337 visitors came to Aberdeen over four exciting days to attend the Eastern Hemisphere¡¯s premier oil and gas show, Offshore Europe 2003.
With confirmed contract deals totalling more than US $325 million announced or signed at the show earlier this month, and visitors from 104 countries (30 more than the previous show), the latest event has been acclaimed as the ¡°best ever¡± by the industry, especially for its clear international relevance to the global E&P sector....."
Fraser Brown Engineering (Forklift Truck Safety Devices) said this about the last event...
"Offshore Europe 2003 – Once more, assistance from Gray Material Handling meant Fraser Brown Engineering Limited were able to have a Mitsubishi lift truck on stand 1513, to show the EyeLevel device. A very successful week, where we were visited by several hundred companies, ended with firm ties being made with companies from as far afield as Canada, China, Russia, Nigeria and Libya. Closer to home, several major Oil & Gas operators have expressed a solid interest in EyeLevel and some devices are already fitted, awaiting testing. So happy are we with the feedback from this event, that we are already looking to book our place at Offshore Europe 2005."
Date(s)
:
6th to 9th September 2005
Venue
:
Aberdeen Exhibition & Conference Centre
Contact for booking / more info
:
Nik Rudge Sales & Marketing Director E-mail: nik.rudge@spearhead.co.uk Tel: +44 (0)20 8949 9862 Fax: +44 (0)20 8949 8186
http://www.offshore-europe.co.uk/