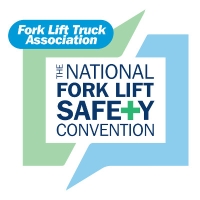 Firmly established as the most authoritative event of its kind in the materials handling calendar, the award-winning FLTA National Fork Lift Safety Convention sees hundreds of managers - from across the UK - come together to share best practice advice.
The award-winning event, sponsored by Toyota Materials Handing UK is part of the Association's drive to large-scale change for the better.
Collectively, Safety Convention delegates are responsible for the lives of many thousands of workers across the UK. It is crucial that they have the very best, most practical and valuable information...and this is exactly what the Safety Convention strives to do.
The theme of this year's event is:
Forklift safety. It's no accident.

Managing behaviours to transform on-site operations.
BOOK YOUR TICKET NOW
Date(s)
:
October 30, 2019
Venue
:
Heart of England Conference and Events Centre, Coventry
Contact for booking / more info
:
Email the FLTA
https://fork-truck.org.uk/fork-lift-safety/national-fork-lift-safety-convention