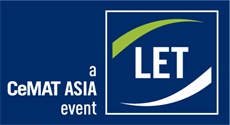 2019 Chinese International Logistics Equipment & Technology Exhibition (Guangzhou)

Venue: Guangzhou Canton Fair Exhibition Hall Area B
Theme: Intelligent Manufacturing. Intelligent Logistics
Concurrent Exhibition: Guangzhou International Advanced Manufacturing and Intelligent Factory Exhibition, 2019
Official website: www.chinalet.cn

Organization
Support Unit: Department of Commerce of Guangdong Province, Ministry of Commerce of the People's Republic of China
Organizer: Hannover Milano Best Exhibition (Guangzhou) Co., Ltd.
Co-sponsor: Guangzhou Logistics Technology and Application Association
The Overview of Chinese Guangzhou Logistics Exhibition 2019
Chinese International Logistics Equipment & Technology Exhibition (Guangzhou) (LET-a CeMAT ASIA event in short) is the biggest Intelligent Logistics Equipment and Technology Trade Fair in South China. As a specialized logistic Equipment and Technology Show, LET-a CeMAT ASIA Event is always organized under the principle of grasping the market trends with new technologies, innovations and services, and provides exhibitors a high-end professional trade fair platform based in South China. Since the first edition in 2010, it has already successfully operated for 9 years. As the scale of exhibition expands, the quality of exhibits improves, and the number of visitors increases, LET-a CeMAT ASIA Event has already became an iconic event in the field of logistic equipment and technology in South China.
In 2018, the 9th Chinese (Guangzhou) International Logistics Equipment and Technology Exhibition was successfully held on May 25. Nearly 300 top logistics technology enterprises from domestic and abroad have highlighted high-tech products and technologies including intelligent forklift trucks, logistics system integration, logistics robots, AGV, green handling technology, lithium-electric fast charging technology, laser slam unmanned guidance technology, intelligent factory scheme, etc. The exhibition area reached 20,000 square meters, and attracted 32,590 visitors during the three-day exhibition period. At the exhibition site, we also held a series of splendid activities,and invited experts and scholars from nearly 100 industry to discuss "Intelligent Manufacturing and Intelligent Logistics". In addition, according to the characteristics of users' needs in South China market, we also tailored technology application solutions to meet users' needs and solve their difficulties.
Product Categories
Intralogistics-Systems and software
Logistics services and outsourcing
logistics system integration
packaging equipment and materials
AGV and accessories
Peripheral Equipment
Mechanical handling Warehousing Technology and workshop equipment
logistics robotics
Loading technology
packaging and ordering picking equipment
warehouse technology logistics
Intelligent Manufacturing Smart Logistics
Pallet
forklift truck & accessories
Entire systems for material handling technology
Supply chain Management and software
Contact us
Hannover Milano Best Exhibitions(Guangzhou)Co.,Ltd.
Address: Room 1808, West Tower, Poly World Trade Center No.1000, Xingang East Road, Haizhu District Guangzhou, China 510308
Linda Lin (Marketing Manager)/ Yuwen Zhang (Marketing Specialist)
TEL:+86-20-89617314/89617125
E-mail:info@chinalet.cn / yuwen.zhang@chinalet.cn
FAX:+86-20-89617159
a href='http://www.chinalet.cn/'>www.chinalet.cn

Date(s)
:
29-31 May 2019
Venue
:
Guangzhou Canton Fair Exhibition Hall Area B
Ticketing
:
Please contact the organizer
Contact for booking / more info
:
yuwen.zhang@chinalet.cn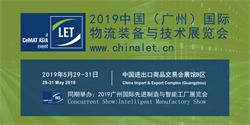 http://www.chinalet.cn/