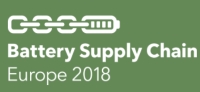 Growth in Li-ion battery demand will require fundamental changes to battery raw material industries.
Opportunities for Networking and Business
The Roskill Battery Supply Chain Europe conference is bringing together professionals in the industry from all over the world and will offer participants many opportunities for networking and business.
If your business is raw materials and/or batteries, you should attend the Roskill Battery Supply Chain Europe conference in Dusseldorf in 2018!
Important questions to be answered:
What are the risks to the battery supply chain?
How will supply and demand develop?
Where are developments in the EV market heading?
These and other important topics will be covered at Roskill's Battery Supply Chain Europe 2018, including new projects in the pipeline and up-to-date reports on all of the key raw material industries.
Date(s)
:
March 13-14
Venue
:
InterContinental Dusseldorf
Contact for booking / more info
:
roskill.com/contact
https://roskill.com/event/battery-supply-chain-europe-2018/