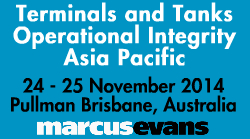 Why you Cannot Miss this Event:
Asset Lifecycle Costing and Optimisation 2014 forum
will provide you different perspectives from both strategic and operational side in relations to asset reliability and performance for an improved overall business results. It aims to address the top pressing issues such as: asset optimisation, organizational alignment, lifecycle extension, resource allocation, the impact and implementation of ISO 55000. At this event, delegates will be able to choose between two streams during breakout sessions to maximise their learning and bring back valuable experience to be executed at own practice.
Follow your own agenda with a choice of 2 streams during breakout sessions:
Stream One: Strategic Asset Management for Profitability
Stream Two: Asset Lifecycle and performance Optimisation
Plenary:
Organisational Alignment and Resource Allocation
Featuring Expert Speaker presentations from:
Director Asset Support
Veolia USA
GM Asset Strategy
Downer Infrastructure
GM Asset
Vemco
Chief Engineer
NSW Sugar
National Asset Manager, Operations and Engineering
Holcim
Asset and Infrastructure Manager
Australia Pacific Airports
Special Project Manager ?Engineering
Loy Yang Power
Asset Strategies & Risk Manager
Western Power
Come in a group to enjoy premier plus discounts up to 20% OFF full price.
Please contact Emily Ng at +603 2723 6662 or
EmilyNg@marcusevanskl.com
CILTA members attending this two days event may claim 30 CILTA CPD Points.
For event information, please visit:
http://goo.gl/J2XqYW
Primary Contact: Emily Ng, +603 2723 6662 or
EmilyNg@marcusevanskl.com
Read the event brochure and registration form
Date(s)
:
November 24th & 25th
Venue
:
Melbourne, Australia
Contact for booking / more info
:
EmilyNg@marcusevanskl.com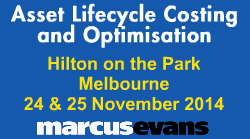 http://goo.gl/J2XqYW