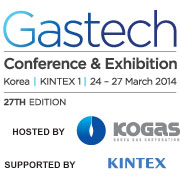 The Gastech Exhibition represents the international gas supply chain at the highest levels, and throughout its 42 years as the leading global gas event, it has attracted executive visitors from across Europe, Middle East, United States, Africa and Asia Pacific regions. The 2014 event will open its doors to international operators, engineering & construction contractors, service companies, shippers and utilities – all keen to develop their business in the world's premier growing gas & LNG market: Asia-Pacific.
Bringing Gastech to Asia will provide our international exhibitors and visitors with the platform to meet and connect with the largest community of buying & procurement teams from some of Asia's leading energy companies. The international, executive level of Gastech also means the event will deliver unique opportunities to meet governments and ministries who are committed to using Gastech to uncover large scale investment opportunities across the region.
Showcasing over 300 international exhibitors and offering free to attend technical seminars, the Gastech Exhibition brings the technical and commercial worlds together in a single location. Industry leaders on show include Shell, ExxonMobil, CB&I, Samsung Heavy Industries, KOGAS, Yokogawa Electric Korea Co. Ltd, Saudi Aramco, Hyundai Heavy Industries, Daewoo Shipbuilding & Marine Engineering (DSME).
Date(s)
:
24th - 27th March 2014
Time(s)
:
9AM to 6PM each day (GMT +09:00) Seoul
Venue
:
KINTEX 1
Program
:
The Gastech conference offers significant new commercial and technical papers published to connect with the growing urgency for Gas and LNG demand in Asia and attendees will have potential for a wealth of investment opportunities most relevant to the entire global gas supply chain. The 70 strongest ground-breaking new project presentations from companies including Shell Korea, BG Group, ExxonMobil, Technip and Wood Mackenzie have been selected by the Gastech Governing Body from over 500 submissions made by the international gas community and will allow you direct access to the projects, plans and ambitions that will help drive economic growth in the region. Programme Highlights include: -Special Presentation: "Enabling Power Market Optimisation in Korea Through Natural Gas", by Chris Gunner, Country Chairman & General Manager, Shell Korea -Special Presentation: "LNG Bunkering Feasibility Analysis for Korea's Coasts: Developing a National Infrastructure", by Kidong Kim, Principal Researcher, KOGAS - The Role of Russian Gas and LNG in Asia-Pacific Markets by the 2020s, Professor Jonathan Stern, Oxford Institute of Energy Studies - North America's Role in Supplying LNG to Asia, Randy Selin, ExxonMobil - Pacific LNG Supply Sufficiency – How Can Asia Achieve This?, Gavin Thompson, Wood Mackenzie - LNG Pricing: Oil Linked or Non-Oil Linked Price Indexing?, Paramate Hoisungwan, PTT International - Risk Assessment for LNG Vessel Transit in an Expanded Panama Canal, Tamunoiyala Koko, Lloyd's Register - Hoses or Arms? Development of a Hybrid LNG Ship-to-Ship Transfer Solution, Andy Alderson, Shell International Trading & Shipping
Ticketing
:
£2999 per delegate for the Gastech Conference
Contact for booking / more info
:
Laurence Allen
http://www.gastechkorea.com/programme