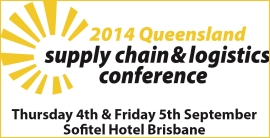 To be held on the 4th and 5th of September 2014 at the Sofitel Hotel Brisbane, the
Queensland Supply Chain & Logistics Conference
is the largest event of its kind in the state and is ideally suited for Supply Chain, Logistics, Transport and Procurement professionals and practitioners.
A uniquely-styled educational event, the conference is designed for both professional and personal development in a most-relaxed environment. With a theme of 'The Key to Supply Chain Success', the 2014 Queensland Supply Chain & Logistics Conference is an event not-to-be-missed!
The 15th Annual Conference will have a comprehensive and dynamic program that includes presentations from highly distinguished Australian and overseas speakers. Building on the success of the 2013 event, the conference will have exciting additions to the program with the 2014 Queensland Supply Chain and Logistics Awards, which are a feeder program in to the Australian Supply Chain and Logistics Awards, the Day Two Workshops and the annual charity dinner on the Thursday evening.
Who will attend and benefit?
The Queensland Supply Chain & Logistics Conference will attract approximately 250 delegates from all over Australia through the newly extended program. A large proportion of the delegates will be key decision-makers, capable of influencing debate and decision. Delegates will include chief executive officers, senior executives and management who are involved at all levels of procurement, manufacturing and materials management, and the people responsible for contracting, outsourcing, warehousing and logistics and other supply chain activities in the private enterprise, government (state, local) or public sector business enterprises.
The Queensland Supply Chain & Logistics Conference is organised by leading industry associations including the Supply Chain & Logistics Association of Australia, (SCLAA) the Australian Institute of Packaging (AIP), QUT School of International Business, CIPS Australia, the Australasian Production and Inventory Control Society (APICS) and the South East Queensland Procurement Network group.
Date(s)
:
September 4th and 5th
Venue
:
Sofitel Hotel Brisbane
Contact for booking / more info
:
nerida@qldscc.com
http://www.qldscc.com