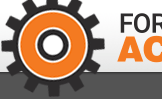 WHY FORKLIFTACTION?

When you present your advertising message to the world, you want to know that the right people are listening. There is no better way to target business people who operate and work with materials handling equipment than advertising on Forkliftaction.com, the world's most extensive online news service and business centre for materials handling.

THE BENEFITS OF ADVERTISING ON FORKLIFTACTION:

The industry context:

We connect everybody within the materials handling chain, business people who rely on Forkliftaction for up-to date independent news and a wide range of resources.

A niche business audience:

Got a message for the materials handling community? Forkliftaction.com reaches the right people:

Owners and operators of materials handling equipment
Fleet managers
Dealers & distributors of new and used mobile equipment
Manufacturers of equipment, spare parts and accessories
Suppliers of related services (training, finance, safety) and representatives of professional or government organisations

Forkliftaction's audience is opt-in: focused and active

Advertising that ticks all the boxes:

An experienced team will partner with you to effectively drive your marketing objectives. Whether you want to target end users or industry professionals, local or global audiences, Forkliftaction will get you results. We offer competitive rates, campaign flexibility and accountability. Rest easy with 24/7 online reporting on impressions, click-throughs and creative analysis. Ask us for more information.

FORKLIFTACTION DELIVERS ADVERTISING PRODUCTS TO MATCH ANY OBJECTIVE:

DRIVE YOUR BRAND WITH MAXIMUM EXPOSURE

ForkliftAction Media provides a number of display advertising solutions to put your brand in the spotlight:

Position your banner at the top or in the margins of the Forkliftaction web pages and capture the attention of 23,000 daily visitors who read the News, participate in the Forums, source on the Business Directory, or consult the Job Market, Events Calendar and Photo Galleries.
Insert your banner in the weekly industry news editions targeting 67,000+ industry professionals who have subscribed to the email service. An Open-Rate of 28% and Click-Through Rate of 53% indicate the commitment of our audience.
Display your banner in the trading platform Machinery-onQ.com and target buyers and sellers of new and used machinery.

We offer banners in different formats and sizes: small banners, skyscrapers, leader boards and mobile banners, in (animated) gif or jpeg.

LAUNCH A NEW PRODUCT, INCREASE PRODUCT AWARENESS AND STRENGTHEN YOUR COMPANY'S IMAGE

Forkliftaction News provides an outlet for your media releases, product promotions, blogs and textual advertisements:

The weekly news is published on the Forkliftaction platform and channelled to our audience through the email service (to +67,000 subscribers), Twitter and a number of industry pages, intranets and extranets.

Dedicated columns provide opportunities for you to publish your media releases, case studies, product features, blogs, as well as shorter Text Advertisements designed to capture maximum attention.

Be found in Forkliftaction's Business Directory

The Forkliftaction Business Directory is the go-to for business people looking to source equipment, services and suppliers. Drive Forkliftaction users to your company with a 'ShopFront' listing. This will put your company at the top of the search results with a link to a dedicated 'ShopFront' page where you can feature your company's profile, links, social media, contact information and more.

Be found in more search results and enhance your ShopFront page with videos by opting for a Premium ShopFront listing.

MOVE STOCK AND DEVELOP DIRECT SALES LEADS

Machinery-onQ is a unique machinery trading platform that epitomises the best of contemporary business practices whilst empowering users with a productive and hassle-free trading experience.

List both new and used mobile machinery:

from container handlers to pallet trucks, harbour cranes to log stackers, forklifts, telehandlers, attachments and industrial sweepers, list a single machine or your whole inventory. Feature specifications, selling price and include multiple photos. Utilise Machinery-onQ's detailed reporting on all of your listings and sales leads together with statistics and quick-links.

Gain exclusive wholesale access:

Available to dealers and distributors of new and used equipment, wholesale access gives you wholesale trading capacity behind closed doors. Easy update solutions will help you manage your inventory. Receive direct leads through your machine listings, the dealer directory and automated dealer requests and choose to target a global or local market.

In most cases a mix of the above options will enhance effectiveness and help you to reach your advertising goals faster. Whatever your budget, whatever your business strategy, our trained and experienced digital advertising consultants can construct an advertising plan to fit your requirements.

Talk to us about your marketing aspirations.