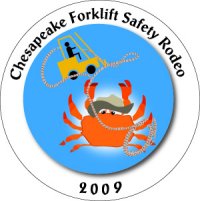 The 2009 Chesapeake Forklift Safety Rodeo's goal is to promote safety in the workplace and display the talent and skill of forklift operators from around the Mid-Atlantic Region.
Presented by Chesapeake Region Safety Council and Atlantic Lift Truck.
Operators will use CATERPILLAR Lift trucks in the compettition.
WHO WILL ATTEND: Registered forklift operators, safety officers and staff employees from companies
who are invested in the Material Handling Industry within the mid-Atlantic Region; safety-products
vendors, the families of the company operators, and corporate professionals interested in supporting
the important message of safety in the workplace; the public is invited to attend.
Sponsors: Pepsi Bottling Group; Cascade; The 2009 US Open Forklift Safety Expo; and Forkliftaction.com
Date(s)
:
18th July 2009
Time(s)
:
0700 to 1700hrs (GMT -05:00) Eastern Time (US & Canada)
Venue
:
Howard County Fairgrounds at 2210 Fairgrounds Rd., West Friendship, MD 21794
Ticketing
:
Way Station program: recipient of Rodeo admission proceeds to benefit vereterans re-entry into the workforce
http://www.atlanticlift.com/news/rodeo.html