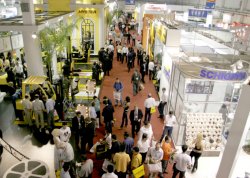 South America's logistics market is one of the fast growing in the world, with an 10% ~ 20% per year increasing and an opportunity to expand your business worldwide.
The last MOVIMAT Show was held in August 2009.
Besides forklifts, the show brought related products such as attachments, batteries, tires, forks and much more. The forkliftruck Brazilian market is the biggest in South America with more than 8,000 expectation sale units for 2006.
MOVIMAT 2010 presents developments in equipment, systems and logistics services, warehousing and packaging.
Promote new contacts and encourage relationship are MOVIMAT's objectives, which will present innovations and improvements in equipment, software and logistics services, material handling, warehouse, packing and transportation.
MOVIMAT 2010 is the largest event of the sector in Latin America and it will be a opportune time for prospecting new opportunities, and an important period on the schedule for logistics professionals and others stakeholders. IMAM Feiras e Comercio expects to receive more than 30 thousand visitors - a qualified public composed by managers and professionals in the area.
In addition, at Expo Center Norte, there will be the IntraLogística conference, event directly for logistics small and medium business and the Logismat conference, that presents cases and techniques for professionals that already working in logistics.
Date(s)
:
3rd to 6th August 2010
Time(s)
:
from 2 pm to 9 pm (GMT -03:00) Brasilia
Venue
:
Expocenter Norte (Red Pavilion) - José Bernardo Pinto Street, 333, São Paulo. Brazil
Contact for booking / more info
:
Sylvia Schandert - Press Assistance Phone: + 55 (11) 5575-1400 - Email: sylvia@imam.com.br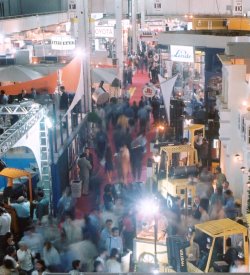 http://www.feiramovimat.com.br/index.htm