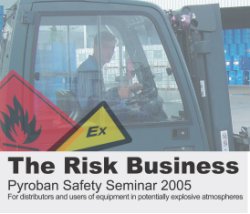 Pyroban research has shown that companies are still unclear of the responsibilities that are put upon them when dealing with potentially explosive atmospheres.
A programme has been developed to address these issues:
• Who is responsible for classifying the areas of premises where there could be a potentially explosive atmosphere?
• Who is responsible for ensuring that equipment for use in explosive atmospheres is operated, maintained and inspected correctly?
• How do insurance companies view risk in terms of their assessment on premiums? How can companies ensure that they are minimising their risk cost effectively to ensure the most competitive insurance premium?
• What can be insured and what cannot?
• What is the legal position for employers whose companies fail to comply with safety regulations? How can employers check that they are compliant?
• How are risks and liabilities defined within a supply chain in your company? Are all parties clear on the obligations? How can you check?
• What should you look for when consulting risk assessment experts to ensure the advice obtained is fair?
To help clarify some of the key issues we have assembled a key group of people - namely a senior legal specialist, a leading Lloyds' underwriter, a consultant in risk assessment and an industry representative.
The seminar is organised for people making key decisions concerning health and safety in small and large companies that have areas zoned in accordance with ATEX 1999/92/EC, and for people in the supply-chain providing equipment built to ATEX 94/9/EC.
The event is taking place at Thistle London Heathrow, Tuesday 5th July.
To register for this free seminar please send an e-mail to seminars@pyroban.com, deadline 1 July 2005.
For more info on the event, or the speakers, please visit www.pyroban.com.
Date(s)
:
5th July 2005
Venue
:
Thistle London Heathrow
Ticketing
:
Free
Contact for booking / more info
:
Zoran Milivojevic, tel: 01273 466232, fax: 01273 465313, e-mail: seminars@pyroban.com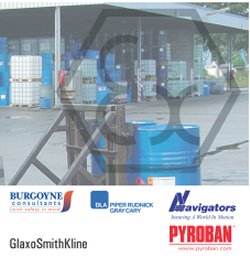 http://Pyroban web site: www.pyroban.com