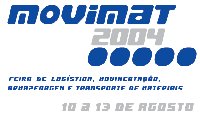 MOVIMAT is the South America's Biggest event on materials handling and warehousing with more than 30,000 visitors and 270 exhibitors, including all major forklift trucks brands.
Review of Movimat 2004
Qualified visitors marked MOVIMAT 2004.
More than 25,000 professionals visited MOVIMAT 2004, from August 10 to 13 at ExpoCenter Norte in Sao Paulo, Brazil.
With 220 exhibitors, including major forklift trucks companies, as BT, Clark, Hyster, Hyundai, Linde, Still, Jungheinrich, Toyota, TCM and Yale, beyond others logistics solutions providers. For exhibitors, the top of this event was the qualified visitors during the 4-day show.
Integrated with the MOVIMAT, LOGISMAT Symposium presented the latest tendencies on logistics from cases by Roche, Rite Hite, Bayer Cropscience, Monsanto, SSA Global such others. The spotlight for this Symposium was the definition of June 6 as the Logistician Day as research on professionals and Brazilian related entities and ABML, ASLOG and NTC&Logistica.
Also during LOGISMAT, Mr. John Greaves, keynote speaker, from Deloitte USA speech about RFID on supply chain application.
Date(s)
:
10th to 13th August 2004
Venue
:
ExpoCenter Norte, White and Blue Pavilion
Contact for booking / more info
:
Phone: ++55 11 5575-1400 Fax: ++55 11 5575-3444 email: imam@imam.com.br Edson Carillo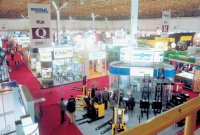 http://www.imam.com.br