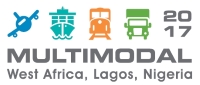 The dates of the Multimodal West Africa 2017 (MMWA) show have changed to 14 - 16 March 2017, and the show will also now be co-located with the highly successful Nigeria Manufacturing & Equipment (NME Expo).
The co-location of the two shows will deliver a much larger audience of 5000 cargo owners and manufacturers to the exhibition and ensure proper representation of all stakeholders in the entire industrial and transport & logistics value chain.
THE LARGEST TRANSPORT & LOGISTICS EXHIBITION IN WEST AFRICA
5000 cargo owners from West Africa will attend searching for supply chain solutions, including: Shopright, Jumia Nigeria, Proctor & Gamble, Nestle Nigeria and Unilever. The exhibition is organised with the support and participation of the Nigerian Ports Authority, Federal Ministry of Transportation and Manufacturers Association of Nigeria.
FINANCE & FUNDING AVAILABLE AT THE EXHIBITION: Financing & funding is available at the exhibition for SME cargo owners to improve their supply chain solutions.
ENTIRE INDUSTRIAL SECTOR VALUE CHAIN: Multimodal West Africa can offer a unique and stronger value proposition to all stakeholders thanks to the co-location with the highly successful Nigeria Manufacturing & Equipment Expo. The synergies between these two events make Multimodal West Africa the largest conglomerate of the industrial, transport and logistics sectors ever in Nigeria.
ENHANCED NETWORKING OPPORTUNITIES: The co-location of Multimodal West Africa with Nigeria Manufacturing & Equipment Expo will develop capacities and provide tremendous networking potential and business opportunities for all participants. With confirmed audience of 3,700 manufacturers already attending NME, the synergy of an additional audience of 2,000 cargo owners and shippers offers a unique prospect of reaching more than 5,000 new business opportunities over a three-day period.
VISIBILITY & ACCESS TO C-LEVEL AND GOV?T OFFICIALS: The free-to-attend conference holds speakers such as Hassan Bello, Esq, The Executive Secretary, Nigerian Shippers Council, Hajia Aisha Ali Ibrahim, FCILT,FNIS/ AGM Operations, Nigerian Ports Authority as well as many other leading industry figures. This provides exhibitors access to and visibility with C-level executives and high ranking government officials and ensures the highest level of decision maker attending throughout the 3 days.
Date(s)
:
changed to 14 - 16 March 2017
Venue
:
Landmark Centre - Water Corporation Road, Lagos
Contact for booking / more info
:
send an email
+44 2073848033
http://www.multimodalwestafrica.com/BiggerPR