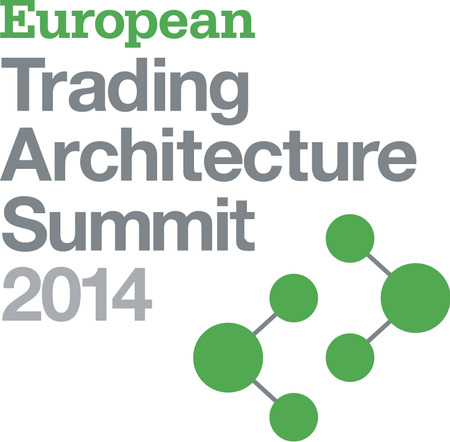 Sell-Side Technology and WatersTechnology are proud to announce that the European Trading Architecture Summit will be returning to London on 18 November 2014.
The conference brings together senior trading technologists and enterprise architects from leading financial organisations across London and Europe to debate their urgent challenges and discuss innovative solutions.
Building on the success of last year, the programme comprises two streams. The Trading Technology stream will address innovative concepts including real-time analytics, intelligent trading infrastructure, risk management strategies and OTC derivatives, while the Enterprise Infrastructure stream will examine high-performance infrastructure, cloud computing as a business enabler, and the best strategies for IT transformation.
Speakers include:
Rick Avis Chief Technology Officer, Enterprise Architecture, UBS
Erik Vynckier, Chief Investments Officer, ALLIANCEBERNSTEIN
Pierre Dulon, Chief Information Officer, CREDIT AGRICOLE CORPORATE AND INVESTMENT BANK
Ian Alderton, Chief Information Officer & Managing Director, BANK OF TOKYO-MITSUBISHI
Meredith Gibson, Head of Legal Risk, SANTANDER UK
Simon Hull, Global Programme Manager eTrading - Markets Electronic Trading, DEUTSCHE BANK
Alex Batlin, Group CTO, Applied Innovation, UBS
Hervé Morel-Derocle, Chief Information Officer (CIO), AXA INVESTMENT MANAGERS
The European Trading Architecture Summit, which attracts over 350 trading technologists and IT leaders, will offer you an opportunity to discuss your business, technology, and operational challenges, and network with your peers.
We look forward to welcoming you to the event on November 18th!
Date(s)
:
November 18, 2014
Time(s)
:
8:20 am - 5:30 pm (GMT) Greenwich Mean Time; Dublin, Lisbon, London
Venue
:
Hilton London Canary Wharf
Ticketing
:
£0 - £999
Contact for booking / more info
:
katie.evans@incisivemedia.com
http://atnd.it/16243-0