The Materials Handling Distribution & Supply Chain Solutions 2003 exhibition, from March 26 to March 28, has been postponed indefinitely, due to "limited support" from the industry.
DMG World Media exhibition manager Peter Petherick said a lack of exhibitors meant DMG had no choice but to postpone the event, which was to have been staged alongside the Smart 2003 conference at Sydney's Convention & Exhibition Centre.
"Without the ongoing support and participation of all key industry sectors, DMG was not prepared to stage an event that was not representative of the broader materials handling and supply chain solutions marketplace," he said.
The previous two MHD exhibitions had seen a downturn in both exhibitor and visitor numbers.
"Our organisation believes in presenting exhibitions that are of benefit to exhibitors, visitors and the industry they represent," Mr Petherick said. "We are not prepared to stage the exhibition in its current form."
Mr Petherick said the Smart 2003 conference, which is organised separately, would proceed as normal.
Date(s)
:
26th, 27th and 28th March 2003
Venue
:
Sydney Convention and Exhibition Centre, Darling Harbour. Halls 5 & 6
Contact for booking / more info
:
DMG World Media Simon Gould, Ph 61 2 95651099, fax 61 2 95504345 Email simon.gould@dmgworldmedia.com.au Ph: 61 2 9565 1099 simon.gould@dmgworldmedia.com.au Media enquiries, images, logo: Simone Mansour SHE Public Relations 61 2 9697 2600 61 402 981 399 sm@shepr.com.au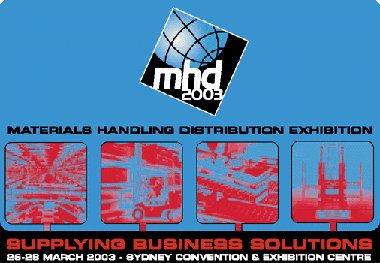 http://www.mhdexhibition.com/