A number of people from the Forkliftaction Team will be flying into melbourne to viisit the show (Wednesday)....look for us in our bright orange shirts.
Matex 2007 will be held as part of National Manufacturing Week Australia's leading industry event.
At Matex 2007 you will have the opportunity to see Australia's leading suppliers showcasing the latest Warehouse Equipment, Warehouse Management Systems, Fork Lifts, Attachments and Batteries, Material Handling Solutions essential to help lift the productivity of your Warehousing and Distribution Operations.
One of the highlights this year will be the 'Interactive Warehouse' where visitors will have the opportunity to view and hear presentations from leading industry experts covering all aspects related to safe work practices in warehousing and creating a safe workplace environment, new technology available to drive your warehouse move efficiently and covering many more topics important to running a successful warehouse operation.
After the success of the Interactive Warehouse presentations in Sydney in 2006 there will be a more developed and truly interactive setting, theatre style seating so you can watch live demonstrations whilst the topic is being presented.
SSI Schaefer is again the Premier Sponsor of the Interactive Warehouse in 2007.
The Interact Warehouse will run daily from 9am to 1.30pm and a full list of presenters and subject matter will be posted for you to choose your preferred day or days that you would like to attend. Seating is limited so early booking is essential. You will be able to register to reserve your seat by booking online please refer to the Warehouse/Seminar section on this website.
Matex 2007 has been designed to specifically address the needs of any business that wish to safely and efficiently store and distribute products. Matex showcases the latest products and systems from both local and international suppliers.
Who will be exhibiting??
Alpha Warehosue Solutions.....Stand #101
Alpha will unveil the Cascade Wine barrel attachment designed specifically for the Australian and New Zealand wine market. This attachment is able to hold two standard size wine barrels and is also capable of rotation of the barrels for ease of use.
Date(s)
:
22nd May to 25th May 2007
Time(s)
:
doors open daily from 10am – 6pm with a late night on Thursday. (GMT +10:00) Canberra, Melbourne, Sydney
Venue
:
Bay's 1-3 Melbourne Convention and Exhibition Centre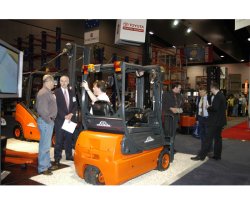 http://www.matex.com.au/expo/overview.aspx