Since its establishment in 1988, ITL has built an unrivalled reputation for attracting the senior decision-makers, both as speakers and delegates, making it the best possible networking event for anyone in the intermodal logistics industry.
For 2004, the event moves to Denmark's beautiful capital city of Copenhagen, one of the fastest growing logistics centres in Europe and fast becoming a major distribution hub for the entire North. With proximity to St Petersburg and the Baltic states, Copenhagen is ideally located to host ITL 2004, especially in the light of the imminent European Union Accession of the Baltic Regions.
Once again ITL 2004's innovative conference format includes a mix of perceptive high-level presentations from the industry's key personalities followed by interactive debate with senior industry and government representatives. You will be able to choose from a series of plenary conferences and modular debating forums, covering the critical issues in modern intermodal logistics.
ITL 2004 is a unique discussion platform bringing together, transport operators, logistics service providers, shippers and legislators. This year, the conference programme will include:
PLENARY CONFERENCES
The key forum for analysing the future direction of intermodal logistics. Representatives from industry, national governments and supra-national regulators will chart the course for modal shift from road to alternative transport methods. This year will also include high-level discussion of intermodalism's global context: the impact of EU enlargement, integrating the Chinese manufacturing powerhouse into the global supply chain.
In association with ReeferTrends - www.reefertrends.com - this separate conference, now in its fourth year, is the prime event for the fresh and frozen produce logistics chain. What are the demands that retailers place on the cold chain? Which factors influence modal choice? How should the reefer business adapt to a globalised food supply chain?
Cold Chain will be backed up by technical workshops aimed specifically at reefer users and operators.
FOCUSED WORKSHOPS
Intermodal Loading Units - regulation and the market
Security and the Intermodal supply chain
Issues in Danish domestic logistics
Sea/Air intermodality - operational realities
Baltic trades and the opening of the eastern markets
Also
The 5th Annual Intermodal Awards - organised by the European Intermodal Association
The ITL Cocktail reception in the Rådhus, Copenhagen's Famous City Hall.
Date(s)
:
2nd to 4th November 2004
Venue
:
Bella Center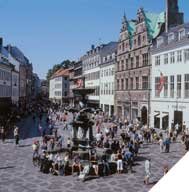 http://www.intermodal-events.com/NASApp/cs/ContentServer?pag