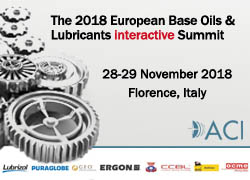 Following the positive reception to last year's new interactive format. We are proud to bring you the enhanced 2018 European Base Oils & Lubricants interactive Summit. We have learned a great deal from the industry over the last 10 years about the direction our event needs to take in order to provide you with an even more valuable insights and networking opportunities.
The 2018 Summit will feature:
- Looking to bring together 200+ decision makers from across the entire Base Oils & Lubricants value chain.
- Pre-Event Networking Drinks Reception sponsored by Lubrizol.
- The Lubrizol OEM Seminar: OEMs Challenges 2030 and beyond – with so many exciting challenges ahead, why not join Lubrizol for this much-awaited Original Equipment Manufacturers (OEMs) seminar, where key OEMs from both the commercial vehicle and passenger car business areas will provide their insights into these areas, and provide strategies that are in view to address them.
- Site Visit – ENI Refinery – Livorno.
- Parallel Streams dedicated to Industrial lubricants and Automotive Lubricants allowing delegates to "lean in" and have in-depth discussions with like-minded peers.
- Structured networking activities:Meet & Greet, Blackout Bingo, Speed Networking, Carpet bowls, Social lotto and Business card contest.
- Interactive format with on-stage interviews, panel discussions, in-conversation and lunch round tables.The summit will ensure that delegates receive content in a way that is engaging and interactive, that also allows for everyone to be part of the wider conversation.
Date(s)
:
28-29 November 2018
Time(s)
:
8:30am - 6:30pm (GMT +01:00) Amsterdam,Berlin,Bern,Rome,Stockholm
Venue
:
Florentia Conference Hotel - Via Giovanni Agnelli
Program
:
Pre-Event Networking Drinks: The first opportunity to network with other attendees in a less formal setting. Meet & Greet: Say hello to old friends and make new contacts. This is your chance to interact with other attendees prior to formal proceedings. Lunchtime Round Tables: Join our interactive round tables, where you will have the opportunity to network with those sharing similar interests and/or responsibilities to discuss the latest market trends and opportunities in a more informal environment. Blackout Bingo: You will get a Blackout Bingo card which will be stamped by every Sponsor/Exhibitor you meet. Once you've filled your Blackout Bingo card you will be entered into a prize draw. Business Card Contest: We want to see you build your network and contact list as much as possible. Therefore, we are offering a prize to whoever manages to collect the most business cards over the two days. Carpet Bowls: Test your precision and patience with a friendly game of carpet bowls whilst networking with fellow attendees. Speed Networking: This is your opportunity to make 10 brand new contacts before the sessions begin on Day Two. Social Lotto: Taking place during the evening drinks reception, Social Lotto is a fun way to network and win yourself a prize.
Ticketing
:
£1495
Contact for booking / more info
:
bgordon@acieu.net
https://www.wplgroup.com/aci/event/base-oils-lubricants-summit/