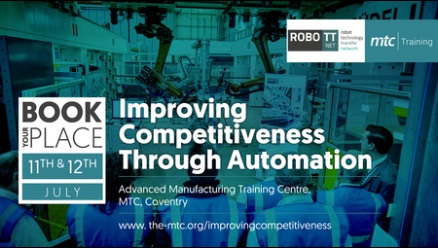 This practical face to face course, designed by the Manufacturing Technology Centre (MTC), is being part funded by the European Commission and in a partnership between three of Europe's leading research organisations including the Danish Technological Institute, Fraunhofer IPA and Tecnalia to support the development of European manufacturing and the use of robotics and automated processes.
Delivered by the MTC's Chief Engineer in Intelligent Automation, this course will provide you with the necessary tools, techniques and processes to evaluate the opportunity, develop the business case and deploy the implementation plan to integrate automation into your business.
Is this course for you?
Do you need to remain competitive by introducing automation into your business, but don't know how to get started?
Do you need to know how to realise the business benefits, how to overcome the barriers-to-entry and put together a robust business case and implementation plan?
Do you need a high-level technical insight into the various robotic and automation technologies?
If you've answered 'yes' to any of these, then this course is definitely for you.
Learning Objectives: Upon completion of this course, you will be able to:
1.Concisely articulate what is automation, and what it is not
2.Describe the multitude of benefits of utilising automation
3.Identify the barriers-to-entry and how to overcome or mitigate them
4.Perform an evaluation as to when automation will benefit a given process
5.Utilise various business tools, techniques and processes for when implementing automation
6.Select the most appropriate technology, application and techniques for a given business requirement
7.Describe the future trends and developments of automation, and their correlation with competitiveness
Date(s)
:
07.11.2018 - 07.12.2018
Time(s)
:
9:00 am to 4:30 pm (GMT) Greenwich Mean Time; Dublin, Lisbon, London
Venue
:
Lloyds Bank Advanced Manufacturing Training Centre
Ticketing
:
General Admission: GBP 100.0
Contact for booking / more info
:
Danny Jones
https://go.evvnt.com/239542-0?pid=2927