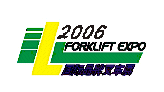 Sponsors
China Engineer Machinery Industry Association Automobile Branch (CITA)
Zhonglian Forklift Corp (former name: China Forklift Corp)
Guangzhou Best Exhibition Co., Ltd.
Co-sponsors
China Engineer Machinery Industry Association Material Handling Branch
Guangdong Port Association
Anhui Heli Co., Ltd.
Hangzhou Forklift Engineer Machinery Holding Co., Ltd, Zhejiang
Dalian Forklift Co., Ltd.
Fair Friend Forklift
Guangzhou Tianli Forklift Assembly & Maintenance Co., Ltd
Organizer
Guangzhou Best Exhibition Co., Ltd.
With the fast development of economy and the increasing trade exchanges between nations, Guangdong has been the biggest manufacturing base and the center for transportation and trading. The Pearl River Delta is the most developed economic area with the fastest speed in China. More than 30% imported and exported freights are in and out from here. All these mature conditions strongly promote the development of China's forklift industry. Recently, the domestic demand for forklift has increased with a speed of 30% to 45%, and the distribution in Guangdong is up to 20% of the nation. With the increasing forklift market, the top 10 forklift brands have thronged into China to strive for market share. Consequently, the sales in Guangdong steadily occupy the largest proportion.
The 1st International exhibition for forklift and its accessory completed on March 28th-30th, 2005. The successful exhibition symbolized the birth of the first forklift exhibition in South China. The exhibition attracted more than 100 enterprises from home and abroad and welcomed 8654 professional buyers. A survey after the fair showed that 86.7% enterprises reached their anticipated purposes, 86.4% of participants expressed their enthusiasm to join again next time, and 79.1% participants were satisfied with the professional organization. Among them, enterprises such as Tianli Forklift, Xiamen Forklift, Baoli Forklift, and Youjia Forklift, paid high attention to the exhibition by jointly display with large area both in indoor and outdoor.
Based upon the 1st exhibition, in order to provide better service of high quality for every participant, Best Exhibition Company will summarize the experience and improve the professional degree by inviting official sponsors and co-sponsors. The 2nd exhibition will be on the theme of Brand, International and Profession, and it'll be run in an international exhibition way, and encourage the entering of brand enterprises. The title of the exhibition will be changed into International Brand Forklift and Accessory Exhibition Guangzhou. It definitely will be a great pageant of forklift industry. With new operation, new philosophy, and new plan, the organizing committee will invite the buyers in advance and make the exhibition significantly better!
Forklift Zones: Diesel forklift, accumulator forklift, power forklift, electric pallet dolly, electric pallet stacker crane, forward movement forklift, side forklift, tractor, fixed platform hand track, container forklift, container front lift, hand pallet forklift, hand forklift, expansion fork laneway piling forklift
Forklift Accessory and Tools Zones: Vehicle tyre truckle, accumulator & charging system, electric lighting system, drive system, steering system, hydraulic system, lifting system, operating system, body system, seat frame system, gear system, electric system, radiating system, special lubricant, hydraulic oil, cargo fork, pipe winder, adjusting distance fork, push-pull equipment, cardboard box clip, fork clamp, side movement fork, brick handling unit, scroll clamp, non-arm clip, expansion fork stand, round rod clip, barrel clamp, dual-purpose fork clamp, multi-purpose pallet fork, load stabilizer, soft package clamp, tipping fork stand, forward movement fork, rotator, multi-purpose arm clamp, rotating fork, pallet