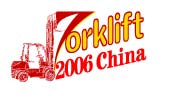 The successful 1st China International Forklift and Fittings Trade Fair in Shanghai attracted 150 worldwide famous enterprises from 26 countries and regions to the exhibition and about 20 thousand professional visitors. Its exhibition area was 10000 square meters. The 1st trade fair achieved a trading of 680 million RMB. It is expected that the 2nd trade fair with an exhibition area of 20000 square meters will attract more than 300 enterprises.
On Display will be:
1.Various forklift: Industry vehicle: Electric power tray transporting vehicle, forward forklift, low-place selecting forklift, high-place selecting forklift, electric power trailer, shipping container forklift;
Electric power tray stacker: Internal-combustion forklift, storage battery forklift, flank forklift, fixed-platform forklift, front crane of shipping container forklift;
Fuel forklift: liquefied gas forklift, diesel oil forklift, petrol forklift;
Electric power forklift: electric power tray forklift, electric power balance forklift, electric power lift forklift;
Hand-moving forklift: hand-moving tray forklift, hand-moving lift forklift;
Special kind forklift: flameproof forklift, multi-direction moving forklift, cross-country forklift, moving crane of shipping container.
2. Various accessories of forklift: Driving system, transmission system, changing-direction system, electric system, hydraulic pressure system, carriage system, ascending and descending system, manipulating, storage battery, lanterns, axletree, chains, clutch, lube, hydraulic oil etc.
3. Various Accessory series of forklift: Rolling tube equipment, goods fork, adjusting-distance fork, pushing and pulling equipment, cardboard box clip, fork clip, side-moving, brick transporting equipment, paper winding clip, non-arm clip, flexible fork, circle-pole clip, bucket clip, dual-functional fork, multi-functional tray fork, carrying-load stabilizing equipment, soft package clip, dumping and reversing fork frame, front-moving fork, revolving fork, multi-functional steel arm clip, revolving fork.
4. Various forklift trainings
5. Various forklift affiliated equipments
Activities:
1. International forklift industry development trend and market analysis conference
2. International purchasing forum of forklift and parts
3. Global supply and demand party
4. Summit Conference
5. Assessment & recommendation of products: with the aim to promote production sales, high-quality products with development and market potential are recommended to professional people. Organizing committee and expert group will give honor and recommend exhibiting products, and award medals and certificates.
Date(s)
:
28th to 30th June 2006
Venue
:
Everbright Convention&Exhibition Center
http://www.nationway.com.hk/brochure/forklift.htm