The Terminal Operations Conference is the premier event for the global maritime port and terminal industry and is staged three times a year - in Asia, Europe and the Americas. TOC has built an unrivalled reputation for attracting the senior decision-makers, both as speakers and delegates, making it the best possible networking event for the global maritime industry.
After the outstanding success of last year's event in Panama, TOC2004 Americas moves to Chile's beautiful capital city of Santiago, providing delegates with a unique opportunity to examine at first hand the exciting prospects for new liner trades to South America and the radical changes to the continent's port industry.
The conference format includes a mix of perceptive high-level presentations from the industry's key personalities followed by interactive debate with senior industry and government representatives. You will be able to choose from a series of plenary conferences and parallel debating forums, catering for different areas of expertise, whether in strategic business development or technical and operational practicalities.
This year, the conference programme will include:
Assessing the prospects for trade growth
Developing liner networks and strategies to serve South America's West and East Coasts
Regional transhipment developments
Prospects and implications of regional port reform
Impact of port restructuring and privatisation
Vessel, quay and yard productivity
STS crane technology
Information technology systems for container terminals
Issues in fresh produce handling
Date(s)
:
9th to 11th November 2004
Venue
:
Sheraton Santiago Hotel,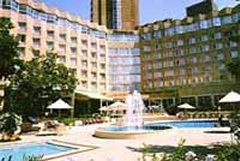 http://isg.toc-events.com/NASApp/cs/ContentServer?pagename=m