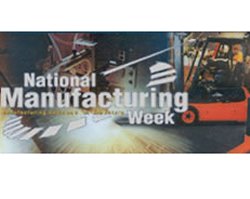 The organizers state - In 2004, National Manufacturing Week will deliver the LARGEST single manufacturing event in Australia. Encompassing ELEVEN events, NMW 2004 is well on the way to surpassing all previous records.
Since its inception in 2000, National Manufacturing Week has successfully maintained a balance of delivering a series of highly targeted events within the manufacturing industry at the same time as delivering a broad business platform for the industry as a whole.
Attracting a long list of high calibre exhibitors and an impressive visitor audience, National Manufacturing Week delivers a high quality event for the manufacturing industry.
*** I really need to save on MECHANICAL REPAIR costs! Who can help? Find the answer in the Forkliftaction.com Business Directory ! ***
Date(s)
:
1st to 4th June 2004
Time(s)
:
Tues/Wed - 10.00 a.m. till 6.00 p.m. Thurs 10.00 a.m. till 9.00 p.m. Fri - 10.00 a.m. till 4.00 p.m. (GMT +10:00) Canberra, Melbourne, Sydney
Venue
:
Sydney Convention & Exhibition Centre, Darling Harbour
Contact for booking / more info
:
nmw@ozaccom.com.au
http://www.nmw.reedexhibitions.com.au/home.asp