The organizers note : Following the success of the 1st Intermodal Africa 2003 Exhibition and Conference hosted by Kenya Ports Authority, the next 2 days Pan-African Exhibition and Conference on Thursday 5 and Friday 6 February 2004 called the 2nd Intermodal Africa 2004 Cape Town Exhibition and Conference is honoured to be hosted by the National Ports Authority of South Africa.
The 2 day Conference will be a gathering of 33 world-class conference speakers in global transport and logistics attended by a prestigious and impressive gathering of 350 senior executive delegates from the world¡¯s leading shippers, cargo owners, shipping lines, freight forwarders, logistics companies, ports, terminal operating companies, railway operators, port equipment and services suppliers. There will be English and French bilingual translation available throughout the conference for delegates.
There will be the commercial opportunity for 35 companies and sponsors to exhibit their products and services to the more than 500 Pan African, international and regional participants at this prestigious annual African international Exhibition and Conference event.
Date(s)
:
Thursday 5 and Friday 6 February 2004
Venue
:
Holiday Inn (Strand Street),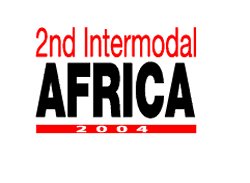 http://www.transportevents.com/event_page.cfm?event_content_