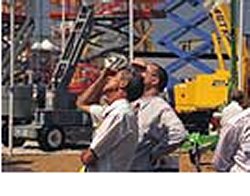 SED - Site Equipment Demonstration.
The UK's largest working construction exhibition, incorporating
The Site Equipment Zone, The Pavilion, Cranes & Access Village, Site Clearance Zone, Truck Zone and the Concrete Show.
SED 2003 saw 477 exhibitors (an all-time record) and 17,662 visitors. From every sector of the industry. (We are waiting on figures for 2004 SED)
If you are an exhibitor, SED is three days when the buyers come to you. Where you can demonstrate equipment in real working-site conditions perfect for new product launches. Where you can really communicate with your customers, face-to-face.
As a visitor, SED is your only chance to see this much new kit side by side. To try it out. To talk to the designers and manufacturers. To find out which purchase is exactly right for you before you commit your hard-earned cash.
Marubeni-Komatsu will be launching two new product ranges to the UK market – zero tail swing mini and midi excavators and its new telehandler range.
SED AMENDS AGE ADMITTANCE POLICY
One of the greatest challenges facing the construction industry today is the shortage of skilled labour: according to CITB ConstructionSkills; the industry needs to recruit at least 86,000 people each year across the UK. The only way to attract these young people into the industry is by providing them with the opportunity to see what construction and construction plant and equipment is all about.
To secure an experienced, enthusiastic workforce that young people aspire to become part of, employers need to attract them as soon as possible by establishing early links. What better place to establish those links than at a working construction event, with more than 450 exhibitors from the construction and related industries, including various training bodies, and numerous demonstration areas where potential trainees can see the kit in action – in a safe and controlled environment.
With these factors in mind, the organisers of SED have made a significant amendment to its admittance policy by allowing youngsters, aged between 12-years and 16-years, entrance to the show as long as an adult accompanies them.
With this change in the admittance policy SED is hoping to attract young people who are serious about a career in construction.
Julian Humphreys of CITB-ConstructionSkills said: "The SED's amended admittance policy is an excellent initiative. To ensure the future of our industry, it is essential to target this age group and to catch them at a time when they are starting to think about the jobs they want to do and the routes in they need to take."
Date(s)
:
17th to 19th May 2005
Time(s)
:
TBA (GMT) Greenwich Mean Time; Dublin, Lisbon, London
Venue
:
Fen Farm Wavendon Milton Keynes UK
Ticketing
:
Entry is free.
Contact for booking / more info
:
Jackie Hanford, Tel: + 44 (0) 208 652 4810 Fax: + 44 (0) 208 652 4804

http://www.sed.co.uk/