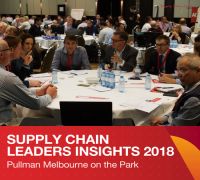 Why Come?
1. Industry experts to answer those burning questions for you
2. Great networking with your industry Peers
3. The latest thinking in Supply Chain technology and services.
4. Practical tips and advice you can apply immediately.
5. Advice about your career and training/education options.
6. The dos and don'ts of selecting key suppliers.
All your burning questions are answered in 1 Day! This is not a normal Supply Chain & Logistics Management Conference. At all!
In fact, it is a whole day of coaching and training in small groups. You get to pick the topics that interest you and you can move around the Experts tables all day.
We limit this event to only 20 Experts and 200 delegates. So coaching groups are only 10-12 people.
We could have more Experts, but your choice of which sessions to join would become impossible!
The full program will be displayed around the room on the day and in your event booklets. But as a teaser, here are some of the things we'll be sharing:
- Understanding Chain of Responsibility.
- The basics of Sales and Operations Planning
- The impact of e-commerce and Unichannel.
- Making sense of freight forwarding
- Warehouse design made simple
- The use of big data in the Supply Chain
- Managing freight more effectively
- Product Slotting and reducing warehouse costs
- Measuring Supply Chain Performance and identifying improvement areas
- How to select Supply Chain IT Systems
- Leasing and financing equipment
- Innovations in materials handling
Date(s)
:
21/08/2018/
Time(s)
:
8:30 AM to 5:00 PM (GMT +10:00) Canberra, Melbourne, Sydney
Venue
:
Melbourne On The Park
Ticketing
:
AUD 47.0 - AUD 86.0
Contact for booking / more info
:
https://go.evvnt.com/190355-2?pid=2927
https://go.evvnt.com/190355-0?pid=2927