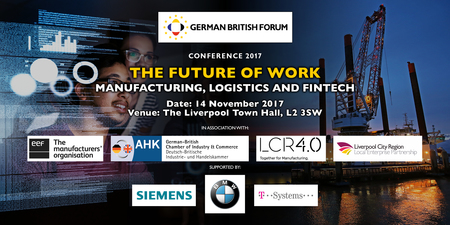 The 2017 German British Forum conference, The Future of Work: Digitalisation and Arbeit 4.0.
FREE TICKETS ARE AVAILABLE FOR STUDENTS.
DISCOUNTED TICKETS ARE AVAILABLE FOR THOSE IN THE EDUCATION SECTOR.
In association with EEF, the German British Chamber of Industry and Commerce, Liverpool LEP and LCR 4.0.
The conference will debate the challenges for recruitment and training for businesses in the age of digitalisation and automation.
How will jobs change in the future and how can we communicate this to the education sector?
The conference focuses on manufacturing, engineering and logistics. Keynote speeches and panel discussions will exchange understanding of the future employment needs of industrial companies.
What are the aims of the UK's Industrial Digitalisation Strategy?
What is needed from education and business? What has been done to improve manufacturing processes?
How is this affecting modern training and college courses?
What is the future of moving product – Logistik 4.0 and "Smart Ports"?
What does the future of food retail recruitment look like?
How will transformation from a traditional industry to a digital/IT company be managed?
Speakers include Lord Mandelson (Chairman of Global Counsel and President of Policy Network), Dr Peter Ammon (German Ambassador to the UK), Juergen Maier (CEO of Siemens UK), Carl Arntzen (CEO of BOSCH Thermotechnology Ltd.), Kieran Ring (CEO of the Global Institute of Logistics), Dave Swan (Technical Director of Tharsus Engineering), a director from T Systems, SuperPort Liverpool, Port of Hamburg and more.
REGISTRATION: 08:00
CLOSE: 17:30
FOLLOWING THE CONFERENCE THERE WILL BE AN OPTIONAL DRINKS RECEPTION AND 3-COURSE DINNER WHICH REQUIRES A SEPARATE TICKET.
DRINKS RECEPTION: 18:30
DINNER: 19:30
Date(s)
:
14/11/2017
Time(s)
:
8:00 am to 5:30 pm (GMT) Greenwich Mean Time; Dublin, Lisbon, London
Venue
:
Liverpool Town Hall
Ticketing
:
GBP 0 to GBP 1000
https://go.evvnt.com/158699-0