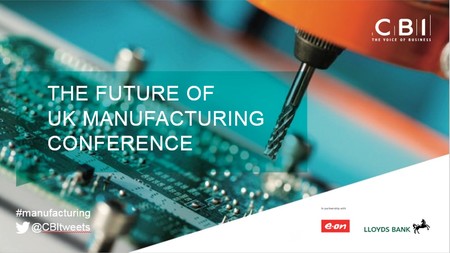 Join us for the CBI Future of UK Manufacturing conference on 5 May at the University of Warwick where we'll be sharing new analysis and outlining the CBI agenda to ensure businesses have the tools and know-how to remain fit for the future.
We will be joined by the Rt Hon Sajid Javid MP, Secretary of State for Business, Innovation and Skills who will share insights on what the government is doing to support UK manufacturing as well as industry experts including Jonathan Duck, CEO of Amtico, Brian Holliday, Divisional Director at Siemens and Sue Graham-Johnston, Managing Director of BOC to discuss how digital technology is being used to transform the UK manufacturing industry.
Hear first-hand insights from your peers who have adopted digital technology; their experiences throughout the digitisation journey, how they have implemented better internal processes; and driven greater efficiencies in order to develop new business models and grow their companies.
We will also be joined by technology experts who will share their inside knowledge of new, cutting-edge technologies; how they have helped manufacturers adapt to change; and how they can help your business stay ahead of the game.
This full day conference will include a mix of thought-provoking keynote addresses, panel discussions and practical breakout sessions to find out more, contact our events team: cbievents@cbi.org.uk.
Date(s)
:
May 05, 2016
Time(s)
:
10:00 am - 4:00 pm (GMT) Greenwich Mean Time; Dublin, Lisbon, London
Venue
:
Rootes Building, Warwick University, Warwick Unive
Ticketing
:
Member: GBP 49, Non-member: GBP 75
Contact for booking / more info
:
Leila Taleb, leila.taleb@cbi.org.uk, +44 (0)20 739
http://atnd.it/54060-0