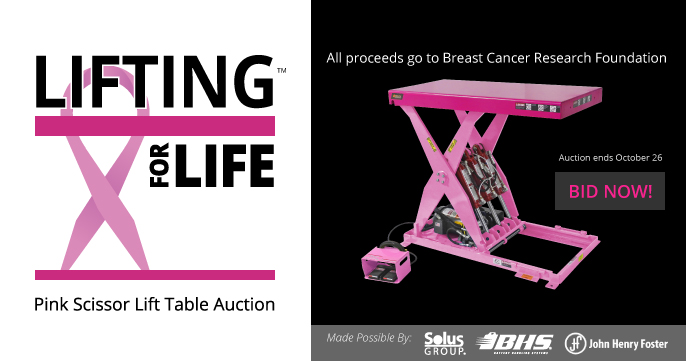 Solus Group, Inc. is auctioning off a special pink powder coated lift table during the month of October in recognition of Breast Cancer Awareness month. Solus Group partnered with Battery Handling Systems, Inc. and hydraulics manufacturer John Henry Foster to bring this distinctive lift table to the auction block.
All proceeds will go to the Breast Cancer Research Foundation, a nonprofit that awards grants for medical research aimed at eliminating breast cancer.
Visit the Solus Group website at solusgrp.com to place your bid!
Date(s)
:
September 23, 2015 - October 26, 2015 3:00 CST
Venue
:
Online
Ticketing
:
Highest Bid
Contact for booking / more info
:
www.solusgrp.com

http://solusgrp.com/blog/solus-group-auctions-pink