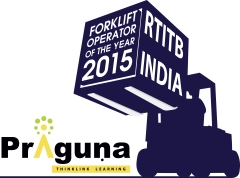 A Praguṇa and RTITB initiative for the search of the most safe and efficient Forklift Operator.
Competition Structure
The competition is divided into two stages; consisting of the Regional Heats and The Grand Finale. The participants go through the Regional Heats which is the first stage, the qualifiers of the Regional Heats get to participate in the Grand Finale. The Entries to the competition is further divided into parts:
Independent Participants (If you would like to register as an individual participant, please contact us through the phone number listed below)

Nominated Operators from Firms (Please fill the nomination form below)
The Companies Nominating a minimum of Four Operators for all regions put together; gets a chance to be participate in the award for 'Best Forklift Workforce of the Year'.
Best Forklift Workforce of the Year Award
Get a chance to be branded as the Best Forklift Workforce of the year by nominating a minimum of 4 participants (minimum two locations). The participants will be scored on multiple parameters and the firm nominating the best group of operators will be given the award.
Regional Heats
Chennai (29th September)
No:104, AS Indo Space Logistics Park-Pollivakkam, Thiruvallur, Chennai
Pune (9th October)
TVS Logistics Services Limited , C/O.R.K.Logistics Services, Gate No - 134 / 2 ,Village Mahalunge Ingle, Talegaon Chakan Road, Tal - Khed , Dist - Pune
Mumbai (13th October)
Mahindra Logistics Limited, Block No-H1, Sai Dhara Warehousing, Mumbai-Nashik Highway, Village Kukse-Borivali, Bhiwandi, Thane, Mumbai
Regional Heat! Delhi NCR (19th October)
Praguṇa Centre, 80th Milestone, NH-8 Dharuhera, Haryana
Grand Finale! - Delhi NCR (19th November)
Praguṇa Centre, 80th Milestone, NH-8 Dharuhera, Haryana
NOMINATION FORM
Prizes
Grand Finale Qualifiers
Free RTITB Training and Certification
Other exciting prizes
Grand Finale Winner
Operator of the Year Trophy
Trip to UK to participate in Operator of the Year 2016, UK.
Date(s)
:
September 29th to November 19th
Venue
:
See website for details
Contact for booking / more info
:
contact the team here
http://www.thinklinklearning.in/operator-of-the-year-2015.html