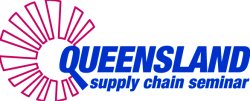 This 4th Annual Seminar has a comprehensive and dynamic Seminar programme which includes presentations from highly distinguished speakers.
The Supply Chain Seminar is co-hosted by the Australian Institute of Purchasing and Materials Management Limited (AIPMM), the Logistics Association of Australia (LAA), the Australasian Production and Inventory Control Society (APICS) and the South East Queensland Local Government Supply Management Group (SEQLGSMG).
The Supply Chain Seminar will:
• Be directed towards public and private sector Supply Chain Practitioners;
• Have an Executive Afternoon aimed at Chief Executives and Senior Executives/Management being held for the first time;
• Be tailored to both large or small organisations; and
• Provide an insight into topics that impact on the performance of your business.
In addition to the extensive business programme, the social programme will be designed to provide the opportunity for your company to renew existing friendships, develop additional contacts, reinforce your position within the industry, have fun and at times a good laugh.
The Seminar will attract approximately 350 delegates from throughout Queensland and Interstate. A large proportion of the delegates will be key decision-makers, capable of influencing debate and decision. Delegates will include chief executive officers, senior executives and management who are involved at all levels of procurement, manufacturing and materials management, and the people responsible for contracting, outsourcing, warehousing and logistics and other supply chain activities in private enterprise, government (state, local) or public sector business enterprises.
Date(s)
:
12th and 13th June 2003
Time(s)
:
TBA (GMT +10:00) Brisbane
Venue
:
Sheraton Hotel, Brisbane, Queensland
Program
:
Programme TBA Guaranteed to be interesting and entertaining.
Contact for booking / more info
:
Jacqui Watson Ph: 61 7 3378 2012 or E-mail Jacqui.w@bigpond.net.au