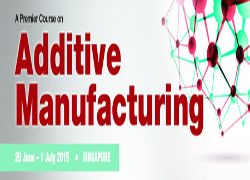 Additive Manufacturing (AM) technology has taken the manufacturing industry by storm. Although this technology is unable to replicate a system totally, several major industries have given significant recognition on its potential in the supply chain industry.
While AM technology has been used for prototyping for some time, we see increasing application of the technology in various supply chain. Shakers and movers in predominant industries such as defence, aerospace, automotive, medical, energy - have begun their ventures into researching and producing complex components, knowing that the technology will make significant achievements in the next few years.
This course will provide unparalleled discussions on the technological evolutions of Additive Manufacturing (AM), application of AM technology in various industries, the impact of AM movement on differing markets, emerging technologies and materials development, among other essential topics.
To inject practicality to the event, a visit to AM facility will be arranged for all participants to witness the various technologies available in the market.
This course will be useful to design engineers, manufacturing engineers, product designers, research engineers, research scientists, managers, VPs of product development and manufacturing, and technology and innovation strategists. Participants may come from any organization broadly focused on advanced materials and manufacturing, or in a position to utilize or realize the value of AM.
Industries such as aerospace, medical devices, automotive, electronics, consumer products, energy, and robotics will find this course helpful in their decision making.
Speakers: John Hart, Associate Professor, Mechanical Engineering Mitsui Career Development Chair, Contemporary Technology Massachusetts Institute of Technology (MIT)
Date(s)
:
Monday June 29, 2015 to Wednesday July 01, 2015
Time(s)
:
9:00 am to 5:00 pm (GMT +08:00) Singapore
Venue
:
To be confirmed
Ticketing
:
Standard Price: $3795
Contact for booking / more info
:
Noni Goh, noni@k2b.com.sg, +65 9190 5966
http://atnd.it/26174-0