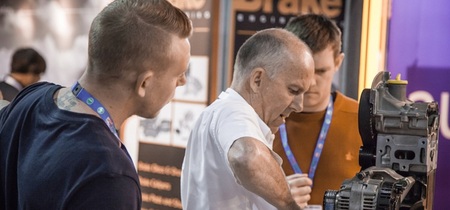 The regional trade show for auto repair professionals. Register for free now!
All the latest automotive products, technologies and practices all under one roof"
Taking place on Tuesday 24th and Wednesday 25th March Mechanex is a superb showcase for all the latest products from most major parts suppliers as well as what's new in diagnostic, air and hand tools. It's the only tradeshow specifically for the motor trade and gives you the chance to try out loads of new products first-hand.
As well as hundreds of special offers only available at the show there is a fantastic programme of free seminars now set out in three key dedicated areas: Technical Workshops, Diagnostic Troubleshooter and Diesel Clinic.
It's worth pre-registering as you'll not only get a Mechanex voucher book that will save you hundreds of pounds at the show but also a free Professional Motor Mechanic T-shirt and a free bacon roll on the day.
Date(s)
:
March 24, 2015 - March 25, 2015
Time(s)
:
10:00 am - 4:00 pm (GMT) Greenwich Mean Time; Dublin, Lisbon, London
Venue
:
Alexandra Palace
Ticketing
:
Registration:
Contact for booking / more info
:
020 8365 2121
http://atnd.it/20713-0