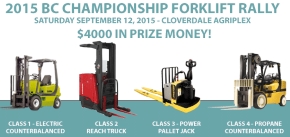 Join us on Saturday September 12th, 2015 at the Cloverdale Agriplex for the
B.C. Championship Forklift Rally
.
Forklift operators from across the the province are invited to compete in the British Columbia?s premiere forklift skills & safety competition. Participants will have their forklift skills tested by competing in a precision driving course that will require them to navigate though a variety of forklift activities and their forklift knowledge will be challenged by a written multiple choice test.
Free Admission For Spectators: Bring your friends and view the event for free!
Competition on Four Divisions: Counterbalanced Electric, Reach Truck, Power Pallet Jack, Counterbalanced Propane
$4000 in Prize Money to be won!
Each Division will have $1000 in Prize Money - 1st = $500, 2nd = $300, 3rd = $200
Forklift Basketball, Bowling & Soccer!
Bouncy Castle for the kids!
The Latest & Greatest Forklifts - will be on display!
Date / Location / Agenda
Date:
Saturday September 12th, 2015
Location:
Cloverdale Agriplex, 17798 62 Avenue, Surrey, BC (
click here for map
)
9:00am:
Competitor Sign-In (Competitors check in at sign-in table, confirm their division)
9:30am:
Obstacle Course Competitor Orientation (Judges walk all competitors through the obstacle courses explaining all tasks)
10:00am:
Competition Begins
2:30pm:
Awards Ceremony (time approximate)
Date(s)
:
September 13th
Venue
:
Cloverdale Agriplex
Contact for booking / more info
:
Contact Us
http://forkliftrally.com/